As mentioned in the intro, one of my interests is trains – particularly those running today. Most enthusiasts/modellers of the present day go for the glamour like passenger trains, or brute force of intermodal, coal, grain, or a steelie, and whilst they all get my interest I also like the oft-overlooked perway trains – that is those used in trackwork.
I am trying my hand at scratchbuilding some models, and having good reference photos on hand is invaluable in this, but they are hard to come by as they attract less interest. For the sake of fellow modellers with similar interests (and I see a couple of you out there), here are some photos I have managed to take in the past. They aren't great quality (many taken on the phone), nor are they well composed, but they are purely for modelling reference.
Other information provided is as best as I can establish from fora such as Railpage Australia, but I cannot guarantee the accuracy. Some useful reading:
http://www.railpage.com.au/f-t11318875-0-asc-s0.htm
http://www.railpage.com.au/f-t11355525-s0-0-asc.htm
http://www.railpage.com.au/f-t11339456-s0-0-asc.htm
http://www.nswrollingstock.com/
As a couple of people I have shown the photos to have asked, I should point out the photos were all taken from publicly accessable areas, and no fence jumping was done. I just got really lucky with the placement of one spoil train in particular at Summer Hill on the Up Main right beside the road, where the track was pretty much at eye level.
NDBF:
I'll start with probably the dodgiest photo of the lot …
Formerly a BD/NOAF open wagon, the NDBF has a shortened open section to allow end decks – this means whereever it is in the consist, it allows passage from one side of the train to the other. It can also be used as a shunters float, and is typically seen at the ends of the consist. This can be kitbashed from a Silvermaz BD kit, and for a while Richmond Models actually released a pack containing the kit and everything needed for the kitbash – I was lucky to get a couple when they were available.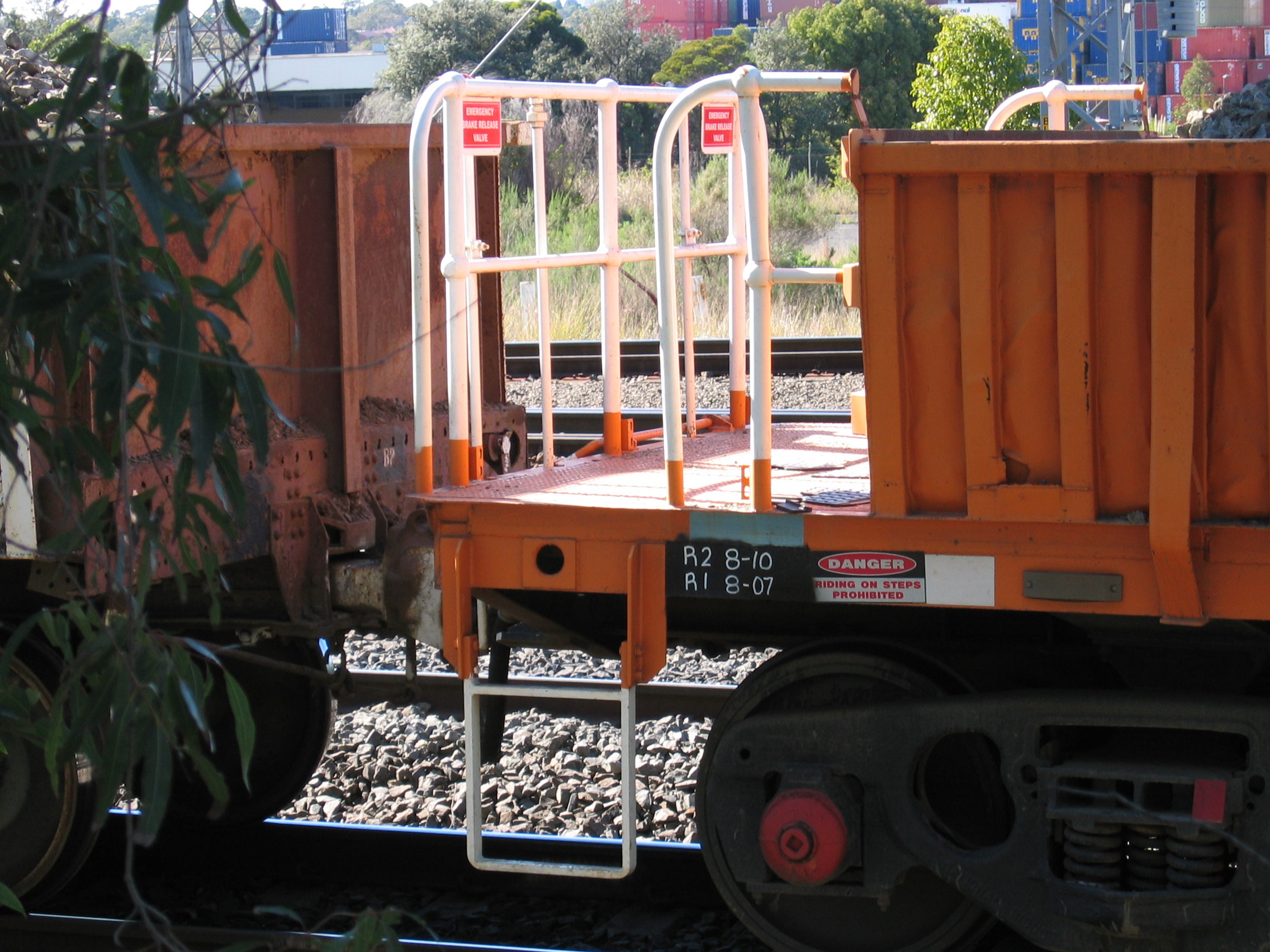 You can see in the above photo signs for the "Emergency Brake Release Valve" – a friend has advised that these wagons are also fitted with a very primative brake valve for the use of the person controlling the propelling movement…..basically it's just a standard ball cock valve mounted up on the handrails.